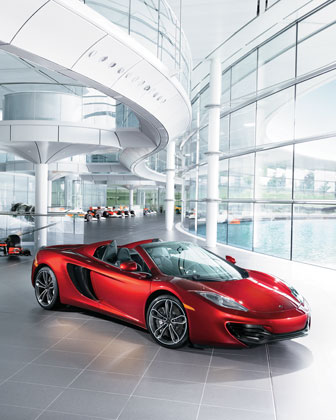 Today, I feel the need...the need...for speed. And this "WANT" will do the trick!
This is the
Neiman Marcus Edition 2013 McLaren 12C Spider
. I don't know much about cars, but this one looks REALLY fast. If you know cars, this might make sense to you:
PERFORMANCE AND TECH SPECS



M838T 3.8-liter V8 twin-turbo engine
7-speed SSG dual-clutch transmission
Carbon fiber MonoCell one-piece molded chassis
Passive Roll Over Protection System to maximize occupant safety—each buttress contains a steel structure designed to absorb impact energy and protect both driver and passenger
0-60 in 3.2 seconds
Maximum speed: 204 mph; 196 mph in convertible mode
Delivers 616 hp and 443 ft. lbs. of power and torque
Airbrake generates up to 176 lbs of drag when deployed

The 2013 Neiman Marcus Edition McLaren 12C Spider in Volcano Red includes lightweight diamond-cut wheels with Gloss Black inners, Gloss Black graphics, contrast red stitching, a stainless steel special-edition numbered badge, McLaren luggage set, two business-class airfare tickets to Heathrow from the Continental US, two nights of accommodations and meals at the Coworth Park Hotel, all transfers, private VIP dinner with McLaren Chairman, Ron Dennis at Coworth Park, and a tour of the McLaren Technology Center.
Might as well be Japanese. I do understand the luggage bit and the dinner with Mr. McLaren (yes, I know that's not actually his name, but it's what I'd call him because I don't think he'd mind).
For your generous $354,000 gift, I'll pick you up and we'll take the world's fastest road trip! It's the least I could do!
RELATED POSTS: