I've become a bit irritated by people today - more than usual.
You see, I have spent most of the day watching CNN's coverage of Obama's first day.
Haters, roll your eyes, throw something at your monitor or gag now.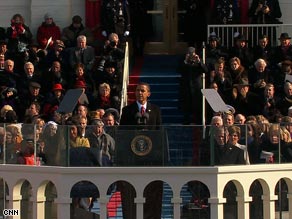 I haven't been doing this because Barack Obama got my vote. I've been glued to it because this is history! To think that when our young country was founded, a black man only counted as three-fifths of a person and now a bi-racial man is President of the United States - I mean, that's amazing!
To think that Abraham Lincoln worked to free the slaves, and that just Sunday, Obama sat at Lincoln's feet in a celebration of what was to come - crazy! Seeing all those people who marched with Dr. King and have waited to see his (and their) dream come true - unbelievable! And that is why, once again, I cried. I call them "tears of hope." Why? Because I have so much hope for our future. Every day marks a new accomplishment. We are running out of excuses as to why we cannot do things. I offer these words from our new President as proof:
On this day, we gather because we have chosen hope over fear, unity of purpose over conflict and discord.

On this day, we come to proclaim an end to the petty grievances and false promises, the recriminations and worn-out dogmas, that for far too long have strangled our politics.

We remain a young nation, but in the words of Scripture, the time has come to set aside childish things. The time has come to reaffirm our enduring spirit; to choose our better history; to carry forward that precious gift, that noble idea, passed on from generation to generation: the God-given promise that all are equal, all are free, and all deserve a chance to pursue their full measure of happiness.

In reaffirming the greatness of our nation, we understand that greatness is never a given. It must be earned.
It must be earned.
Think about that. He is not saying, "Put all your trust in me. I have all the answers." He is only asking of America the same thing every president before him has asked: Give me the chance to lead. You can be reluctant to follow. Just give me some time.
I never believed Obama had all the answers for our country. I believed (and still believe) he has the most potential to create change our country desperately needs. War. Plummeting market. Unemployment. Those are very real - and scary - issues.
I know I've written about my personal reasons for believing in Obama, so I won't get into that here. I just ask that you take a moment to reflect on this historic event and give him the opportunity to tackle those issues. I promise you that if he cannot turn things around, I'll write about it. I hope to hold you skeptics accountable, too. If he can pull off the change he has promised, I expect you to give him credit.