Biggest news of the week: Oprah is calling it quits. Don't worry O fans, she'll be around until September 2011. Watch it and weep:
Nicole
Kidman
says it's motherhood, not implants, that made her boobs
look like this
.
Hmm
. They seem awfully orb-like to not be implants.
There's gonna be a "
Scream 4
."
Yay
.
Maybe Jennifer
Aniston
should stop making bad movies and become a
bikini model
?
Nate
Berkus
, Oprah's cutie-
mccutie
decorator pal, is
getting a talk show
.
It appears Courtney Cox is
one cranky cougar
. Nope. Still not watching that show.
Bob

Saget

has scored a show on A&E
. If it's more like "Aristocrats" and less like that lame show he had on ABC, I might watch.
Hulk Hogan got
clobbered at a press conference
. Assault or gimmick? You decide.
Still not sure what I think about little
Suri
Cruise
wearing heels
.
Forbes does some serious journalism, identifying
Hollywood's most overpaid stars
.
Here's
how
Demi
Moore looks skinny in magazines.
No
photoshopping
here: Heidi
Klum
(and other models)
walks the runway
just five weeks after having a baby -
in lingerie
.
Once again, Megan Fox is proving she
doesn't need talent to get attention
.
And, according to People, this is the year's "Sexiest Man Alive."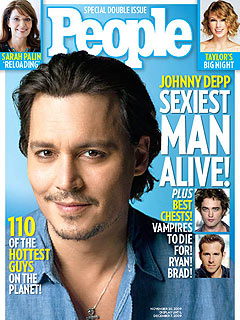 While I always look forward to seeing this issue in my mailbox each year, I don't know. I like Johnny
Depp
, but I'm pretty sure I could find one of the 109 guys in the magazine that is sexier (and perhaps a little more cleaned up - look, I can't help but be turned off by people who look like hygiene is not a priority).