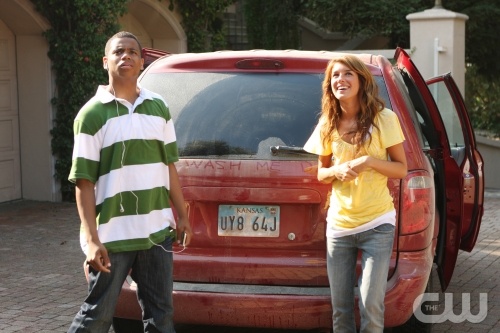 OK. I watched all two hours of the new 90210. Here are my thoughts:
Loved that it started with the new outsider family, "The

Wilsons

," rolling into Beverly Hills in the minivan, only to be met by grandmother who was tipsy and upset that a worker had parked their clunker in front of her home.
Seeing Kelly, Brenda and Nat (yes, Shea, Nat

was

available for the new show!) was not at all odd. It was like ten years passed and they were still doing their thing (very nice).
It was a little weird to see Andrea's daughter reading the news, Kelly & David's sister (who goes by her last name, Silver) being super cruel (a la Kelly in the early years), and Kelly's son (daddy unknown, though she did talk to him on the phone). I suppose this leaves it open for Andrea, David, Dylan or Brandon to return. Where's Steve?
Overall, the show wasn't awful. I actually might have really liked it if there weren't commercials every five minutes. Even though it was billed as a 2-hour debut, it was more like and hour and 15 minutes - that's a LOT of commercials. I'll give it a few more weeks to decide if I'm too old for this. I suppose it's kind of like "The Hills." Only I know the whole show is scripted.
Did you watch? Thoughts???