What? Like YOU don't go out for a beer dressed like this.
THE HORROR! A couple of celebrity exes showed up at the
same restaurant on the same night
.
If you have a few million, you can
buy Heather Mills' NYC home
.
I don't know
who this is
, but I do know her eyebrows are crazy.
A couple of
athletes are engaged
.
It seems like Lisa Marie did not know that she was
not exactly Michael Jackson's, um, taste
.
Jennifer Lopez has
put her twins to work
.
Speaking of twins...
guess who's returning to Playboy
?
Here's a soon-to-be ABC show
. I give it four episodes.
Julianne Moore is 49.
DVR alert:
here's the guest list for Conan's first week
. You can
watch this
until then.
Kim Kardashian's
shoes attacked her
.
This
convinces me Helena Bonham Carter has horrible hygiene.
Here's a book I won't buy
.
This is allegedly Jennifer Aniston's diet
.
I'm pretty sure even babies thought about milk before they saw Sofia Vergara in this ad.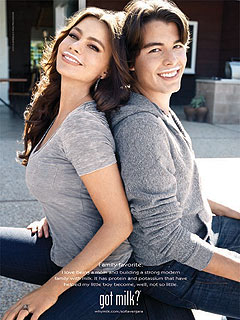 "
Glee" is not exactly for the kids
.
Have you seen the
girl from "Little Miss Sunshine" lately
?
Ladies, notice
the $2 million bra
. Fellas, notice the boobs. You're welcome.
Paris Hilton says she's done with the partying
. I'll believe it when she goes a year without a drug arrest.
Is Beyonce with baby
?
Or not
?
An actress from one of my favorite Hitchcock movies
has cancer
.
I think Kanye West might have
multiple personalities
.
And he obviously has too much money
.
These hairy pits belong to an
Academy Award winner
.
Things are getting pretty
real for this "Housewife.
"
Heather Locklear's daughter is
modeling
.
No one should be
photographed from this angle
.
Guess who's
returning to
Pirates of the Caribbean?
Taylor Swift might be singing a
song about John Mayer
?
Uma Thurman needs to
check the mirror before she leaves
.
Katy Perry is designing nail polishes now
? Also - I want them.
Not gonna lie. I dig this song.
Please tell me
Randy and Evi Quaid are shooting a reality series
.
Lady GaGa does beachwear like no one else
.
OMG!
Here's a movie
that already has me excited about the soundtrack!
Will Arnett is super funny. But it appears
America does not get that
.
Just when I was getting excited about
The Hangover 2
,
this happens
. And I might
not be the only one unhappy with that
. UPDATE:
It's not gonna happen
.
No good can come from
wearing Ed Hardy
, jerks.
Seriously, Halle Berry?
This former sex pot
appears to be getting into politics.
Blame Ashton Kutcher and Twitter for
another bad TV idea
.
ABC is also bringing back another dud
.
I hope
this Christina Hendricks story
is not true.
Add Leif Garrett to the
celebrity rehab bunch
.
Jennifer Lopez makes my breasts hurt
.
Hello, Jenny McCarthy.
If you believe
this rumor
, Christina Aguilera's marriage was doomed.
Neil Patrick Harris is
officially a daddy
.
Guess which superhero is coming to ABC
.
If you've seen Eva Longoria and wondered if she can rap,
let this settle your brain
.
If Raquel Welch can make 70 the new 40, what am I? A toddler? Wait. Don't answer that.
UPDATE: I'm replacing this awesome picture of her with an email I received today - nearly two years after I posted this.
I'm not sure if it's legit, but if it is, these people clearly don't know how the interwebs work. ALL of the pictures I use in these weekly posts do not belong to me. I have never represented them as mine. Also, if you take two seconds to move your mouse over each image, you'll see they're actually PHOTO LINKS to the original source with stories. DUMMIES. I'm giving headline-y links. It's up to people who have found this blog to click every picture/highlighted phrase to get more information.