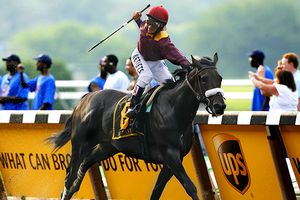 He lost the Triple Crown Saturday. To THAT horse. The fun-spoiling jerk of a horse. Da' Tara was the 38-1 long shot (whatever that means). What kind of name is THAT? Does that sound like the name for a champion? I mean, Big Brown - now that's the name of a champion.
So what went wrong?
"He was empty. He didn't have anything left," jockey Kent Desormeaux said. "There's no popped tires. He's just out of gas."
Nice. Big Brown could have been the first pony in 30 years to win the Triple Crown! Now, he's earned a new distinction:
With a last-place finish, Big Brown earned the dubious distinction of the worst Belmont Stakes finish for a horse that won the Kentucky Derby and Preakness Stakes.




| | | |
| --- | --- | --- |
| Horse | Year | Finish |
| Big Brown | 2008 | 9th |
| War Emblem | 2002 | 8th |
| Carry Back | 1961 | 7th |
| Alysheba | 1987 | 4th |
| Canonero II | 1971 | 4th |
| Kauai King | 1966 | 4th |
[I "borrowed" that from ESPN - holla]


I can only hope this fine horse was not tainted in the owners quest at the Crown (after all, while this horse has won more than $2.6 million this year, the REAL money comes in breeding the champs). I would hate to think he won the other races on the juice!

Hopefully, they won't race him again. Just give him some fine life in a pasture, with oats and fruit and an occasional trot around a pasture.

I can only hope that such a handsome horse (look at him sticking out his tongue while getting a little exercise) won't be made to
suffer some horrific fate (i.e. death) because he can't win again.

There. I've said it. I watched the race. I'm sad some loser horse won big. Though if I'd have gone to the race, I would have probably bet on the long shot thinking I'd never win any money. Then, I'd return home and sleep on a pile of money. Now you know my goal in life. Man, I gotta get to the track!